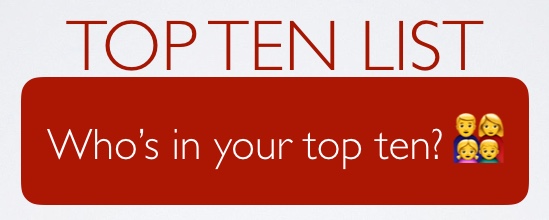 Real Estate services allows me to interact with a lot of people, most of whom I choose to work with are wonderful people. What I notice the most with vendors, clients and contractors I interact with are the folks who seem the happiest are those who balance their lives with close family and friends. You can hear the hints when you interact with them – "I have a Birthday party", but can meet you at this time or that instead or "Thanks, but let me check with my better half". So, where am I going with this blog entry you ask? Well, a tip to help you gauge your "top ten" – who do you interact with the most and how can you tell.
Well, in reflecting on 2016 in this quiet week between Holidays and the New Year; I thought about my loved ones and something that happened to me a few weeks ago. I wanted to call my wife and I, of course, searched my recent calls on my smartphone and there she was at #10. I called her and said "Hey hun, your still in my top ten!" She replied, "Oh that's nice, what?" Then the idea hit me – you can actually gauge from your calls who you talk to the most – it's called the "Recent calls". Now, of course, this depends on the amount of calls you make in the day; but if you are like me you have two phones or two lines (one at/for work and another for everything else) you can see on your personal phone who you call the most. This also depends on the size of your friends and family circle so you might want to call it the top 5 or the top 25 list. But, you get the idea. If someone falls off the list that you know you need to stay in touch with like your Mom or Dad, Sister, etc…find their number and call!
Hope this simple tip helps you stay in touch with those you care about the most and others whom for whatever reason fall off the list but wish they didn't. Give them a call today. All the best in 2017 and may you and yours have a wonderful New Year!
Eddie
_____________________________________________________________________
Courtesy of:

As part of the Weichert Realtors® – New Colony family, I'm a Realtor® registered in the State of Maryland and part of Weichert Realtors – New Colony. As I have access to great Weichert Realtor® services, I encourage you to contact me for all your Real Estate needs. Ask for "Eddie" when you call!